Oof. I was really looking forward to Monday afternoon, with a vision of a raucous, overflowing bear's lair cheering on the men in an upset victory (alright, it wasn't the most realistic vision) as the women methodically moved on to the sweet sixteen. It was fitting that I couldn't even get in the door (the bear's lair is shut down for spring break). I improvised fairly effectively by setting up TVs side by side in my living room, buying some Pacifico and inviting Ragnarok and his dog, but the dream was dead.
"Yeah, daddy, we get to watch so much Cal b-ball together. Yay!"

-Ragnarok's Dog ~ 4:15 PM, Monday, March 24, 2008
The men started off competitively. I won't say they were playing well; the score was close because the buckeyes kept missing open shots. I believe they were 1-11 from beyond the arc early, and that more than anything kept Cal in the game and at times gave us the lead. Then OSU started hitting some buckets, Cal started pressing on offense, and a 1 point lead with less than 7 minutes in the half turned into a 12 point halftime deficit. It was never close in the second half.
Cal did not play well collectively, and no one had a strong individual performance. This is generally not a recipe for success. Randle was the statistical leader in most categories (points, assists, steals), but aside from a great early steal and coast to coast lay-in, he was completely out of control and ineffective running the offense. His defense wasn't good either, but we're used to that. Ok, we're used to out of control play and careless turnovers too.
Anderson, in what hopefully wasn't his last game as a bear, was ineffective as well. In one critical stretch in the first half (when the game was still close), he missed a dunk and then on the defensive end gave up a steal to OSU for an easy bucket. He and Hardin also fought over a defensive board, tipping it conveniently to the OSU big Koufos for a dunk. This has been a common move in Hardin's arsenal. For all his athletic prowess, Hardin's hand eye coordination is sorely lacking, leading to a lot of missed boards and balls fumbled out of bounds or into opposing hands. It reminds me of Rod Benson during the end of the 06 season - I couldn't count how many times entry passes or missed shots would glance of Rod's hands during the Pac-10 tourney. The critical difference is that Rod was coming back from an injury, and after a terrible Pac-10 tourney he was probably Cal's best player in the NCAA 1st round loss to NC State. Now he's tearing it up in the D-League. Maybe Hardin will find his hands in the NBA, but his recent performances do not make one optimistic. It's also hard to be optimistic when he's giving up a career high 16 boards to something named Othello Harrington, he of the 6.4 boards per game this season and 14 boards in the last 3 games combined. I wish DeVon all the best, and the rebounding and defensive problems are not completely his fault (Anderson is not what you'd call a defensive stalwart), but he's certainly been a frustrating player to watch at times.
The women's game thankfully started right when the men's game was getting out of hand, so I put the men's game on mute and turned the adjacent TV to ESPN2. Ragnarok, the dog, and I were instantly rewarded. Whereas the two men's teams started their game a combined 3-24 on three pointers (and not due to defense, both teams were simply cold.), our women hit 4 of their first 5 treys. After some early lead changes, Cal started to assert itself and took an eight point lead into the locker room.
Cal lead for 19 minutes and 15 seconds of the second half. For 32 seconds the score was tied at 36 before Cal pushed the lead to 43-38. Cal lead by 7 at the 4 minute mark, and by 6 with just over 3 minutes. Those are big leads in a women's basketball game. The wheels came off on Cal's second to last offensive possession, starting with about 50 seconds left and a two point lead. Natasha Vital rushed a long jumper with a dozen seconds left on the shot clock. The airball was collected by George Washington, and while Cal stood around flat-footed waiting for a timeout, the senior laden GW team took the ball straight to the rack for an easy lay-in. Tie game. Cal called timeout with 12 seconds left, then attempted to call another timeout with 5 seconds left after Vital brought the ball accross half court. Unfortunately, she traveled, setting up the improbable airball/pass to the back side of the rim for a 3 foot bank shot. With less than 1 second left, GW took its first lead since the 17:24 mark in the first half, when they lead 5-4.
I hope this sounds as brutal as it actually was. Blowout losses are worse for a program (nothing looks better than losing by 20 in the NIT on ESPN!), but they're a lot easier on the fans. You're able to start throwing up defense mechanisms early (in my case, sarcasm: "Nice shot selection Randle! Great defensive positioning DeVon!") and have more time to come to terms with the loss. The women's game was simply heartbreaking. They were on the brink of the program's first ever sweet sixteen only to see it slip away with two vital mistakes (get it?? vital is a synonym for important and also the last name of the player who committed the mistakes. Genius!) Of course, Vtial cannot be held soley responsible. Cal gave up 13 offensive boards (though they collected 15), and Alexis Gray-Lawson, who played a great game otherwise, missed the front end of a 1-1 with 2 minutes left. The women will be back next year, as every contributor returns and 2 highly touted freshman guards arrive to patch up the sometimes shaky backcourt. Still, this was a sweet sixteen caliber team this year.
Sometimes life just sucks.
"Daddy, why does God want me to feel so much pain?"
- Ragnarok's dog ~ 7:15 PM, Monday March 24th, 2008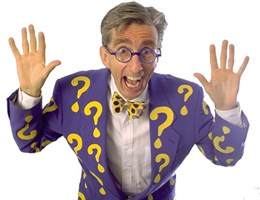 "Welcome to being a Cal fan, son"
Ragnarok ~ 7:15 PM, Monday, March 24th, 2008
(Thanks to Ragnarok, who contributed the title and dog to this report).