Okay, because the 2007 Holiday Bowl just finished up, I thought I'd just throw out some random Holiday Bowl thoughts from this year and last year.
First, I picked ASU to beat Texas in the Bowl Pick 'Em. I thought ASU would win not moreso because of their virtue but because of Colt McCoy's high INT tendency this year. I know a lot of you readers are ready to filet Nate Longshore over his 13 INTs this year, but Colt McCoy has 18! Imagine the further pain and misery of another 5 INTs. 18 INTs is like 1.5 a game. It doesn't seem like a lot but it sort of adds up after a while.
Second, did you see Texas' Chris Jesse come off the sidelines and touch/almost-touch the football during a play? If that was me last year at the H-bowl, I woulda been skewered alive on the sidelines. Well, I guess that wouldn't have been me because while working the game last year I purposely didn't allow myself to get too close to the field so I wouldn't have become overwhelmed with a stroke of stupidity and interfered with a play. Also, I don't think the video was conclusive enough to overturn the original call on the field (original call on the field was that there was no interference and Texas recovered the live ball). That video was about as conclusive as Brandon Hampton's supposed bobbled punt against Washington - TOTALLY INCONCLUSIVE.
Third, while I was rooting for ASU to win, I guess we sort of saw what most of us all knew - ASU is good but not great. Well, I at least never thought they were that good. Certainly not a top-15 team. I mean, they almost lost to us when we were sliding into the oblivion. And we did more to lose that game against them then they did to win the game.

Fourth, here's a random non-H-Bowl thought about ASU's fans throw up their supposed "trident" hand sign (thumb and ring finger pulled down with the index, middle, and pinky fingers up with a space between the three "up" fingers - see the girl on the right in the picture above). That trident hand sign also looks like The Shocker hand sign. Frankly, I can't remember ASU fans doing that a few years ago. I even went there for the '02 and '03 away games. Their band spelled out G-O-D E-V-I-L-S on the field to show their hatred for God but never did anything with their hands to make a trident. Only in the past few years has "The Shocker" hand sign gained notoriety. And I guess only in the past few years has ASU been throwing around that trident hand sign. Coincidence? I don't think so. I think ASU fans sort of adopted The Shocker hand sign since it so closely resembled their trident.
Bush daughter throws up "The Shocker" but because of her laziness it actually looks like the ASU Trident hand sign (b/c of the gap between the index and middle finger).
This is "The Shocker." Notice the index and middle finger are together (as opposed to ASU fans who leave a gap between the index and middle finger). Often, lazy people throwing the shocker will leave a gap between their index and middle finger - thus looking more like a trident such as the Bush daughter.
Fifth, here's a random Cal Football practice thought. One day at practice in San Diego prior to the H-Bowl last year, Coach Delgado thought he spotted scouts/spies watching practice from the top of an adjacent parking structure. He notified security who then went to check out who the people were. I remember one of the players made a "so what?" kind of comment regarding the presence of the supposed scouts/spies. Coach Delgado wasn't so "so what?" about the situation and was very concerned about them scouting out the DL alignments for the upcoming game. He explained that the people where at the perfect angle (lined up at the LOS) and at the right height (elevated to better see the DL alignment) to properly scout the team. It turns out the people were just some relatives of a player or other local football players coming to watch the team. Anyways, I just thought I'd throw that out there since the whole New England Patriots scandel highlighted the fact that cheating happens.
Alright finally, here are just a few pictures of mine that I took of the San Diego Chargers' locker room inside of Qualcomm Stadium. Enjoy.
I heard a lot of fans last year speculating that the Chargers wouldn't allow Cal (or Texas A&M) to use the real San Diego Charger locker rooms. Wrong. Cal got to use the Chargers' locker room and Texas A&M used the visitors' locker room.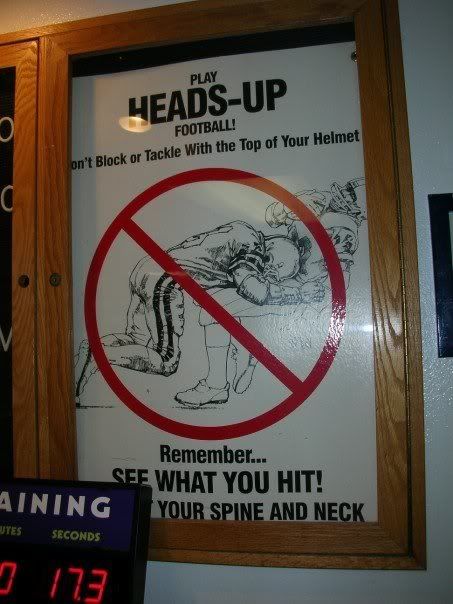 Hmm… that picture reminds me of a hit from this year.
Good to know the NFL doesn't tolerate violent crime.
Ah yes, no strutting around naked in front of the trainers and doctors. And being clean and clothed in the whirlpool also seems like a good rule to me. Actually, the whole "wear shorts in the training room" (can't be naked in the training room) thing is sort of a big deal. Especially in college football where you have a lot of female trainers. The rule is women can't be in the men's locker room (one, because it's for men; and two, because the whole privacy thing). So as an XY chromosome, I often had to venture into the locker room to find/fetch players for my XX chromosome trainer co-workers. And in the H-Bowl last year, because there is no seperate exit from the training room to the Qualcomm hallways other than through the locker room, some of my XX chromosome trainer co-workers effectively became "trapped" in there and couldn't leave due to the presence of naked men in the locker room.
Oh, and the Chargers' locker room isn't that nice. In fact, I don't even know if I can say they are nice at all. They're sort of plain and mundane (maybe I'll put up a picture later). Honestly, I think I can say with a fair amount of certainty that Oregon's players would probably say their lockers and locker room are much nicer. MUCH nicer.