Why do we always seem much more nervous compared to other teams' fans? Why do we always seem to doubt our team more? Why is it so much tougher for Cal fans to seem to swallow success? If you look at the Bear Insider forum going into the Oregon game now, one would think we are 0-4 instead of 4-0. Even I, who am generally a very optimistic person, feel very nervous going into this game.
And from my review of Oregon blogs and whatnot, they seem very, very confident. Is there some natural difference between Cal fans and Oregon fans? Perhaps there are younger Cal fans, who never knew the Holmoecaust, who are as confident and cocky as the Oregon fans. Others seem to expect immediate and unending pain at all turns. The 4-0 start is just going to make the eventual slide that much more painful.
Obviously, right now, nobody knows. But it seems to me that we have as much a chance at winning on Saturday at they do. We are both 4-0. We both have shown explosive offenses with less than staunch defenses. We have both 1 big victory (us v. Tenn; them @ Mich) and a bunch of other wins that showed us nothing. We both gave up 31 points to the juggernaut Stanford offense in just one half. Oh. Wait….
I swear we have the most nebbish fan base. We're all Woody Allens out there with an endless array of annoying insecurities. We fear Tedford is going to dump us at every turn, even though it is becoming increasingly less likely with each passing year. We fear Oregon is going to slaughter us.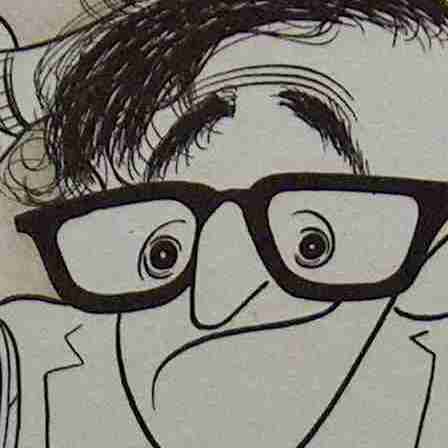 "An artist's rendering of TwistNHook."
Have faith! It might not be the blow out that The Band is prophesizing. But all the talk of 8 out of the last 10 and the last 7 at Oregon seems blown out of proportion to me. The only 2 games Tedford played in Autzen were incredibly close. 2003, Oregon passed us with less than a minute to go. In 2005, we lost in OT after having nearly won the game at the end of regulation. This isn't 2003 when Tedford had a .500 team. This isn't 2005 when Tedford didn't even have a mediocre QB leading the team. This is a Rose Bowl contending team. This is, dare I say it, a National Championship contending team.
Let's put the Woody Allen stuff behind us. Yes, we sucked in the past. I was there, I saw it all. Doesn't mean we are going to suck in the future.
Speaking of the future, let's get another Marshawn update. Losman was injured against the Pats and former Stanford tackling dummy Trent Edwards came in to play. Luckily for him, moving from Stanford to the NFL was easy, because the Bills offense SUX. I mean it's Stanford-esque. The only difference for Trent now is that Marshawn plays for him. He scored the Bills only TD against the Pats.
And he scored it in classic Marshawn fashion. As he neared the goal-line, several Pats defenders tried to impede his forward progress. How rude! Anyway, Marshawn was all "Mental Note: No." And just bowled 'em over. The video is available at the Bills team page at NFL.com, viewed here.
You wanna know scary the Pats are this year? Here's actual photographic evidence that their players were able not only to slow down Marshawn. But stop him! Sure, it took 2 of them. But yknow what? That's just what it takes to stop Marshawn.
Cal can do this. Let's believe! We might not have a perfect team, but I can only think of 5 more teams in the nation that could feel happier than us right now. And Oregon isn't one of them. Let's hope that doesn't change this Saturday.