A few thoughts of mine after the game:
Props to Ainge for playing through the game with his broken pinky. Also, props to Ainge for going 32/47, and a 68.1% completion percentage. Prior to this game I wasn't sold on Ainge. Last year he got easy touchdowns on us from a few missed tackles, but this year he proved his abilities to me. He stood in the pocket, had good pocket awareness, and made excellent throws - with a broken pinky. Props to Ainge.
But then again, Tennessee really nickeled and dimed us. Screen. Screen. Screen. Slant. Screen. Drag. Screen. Slant. Drag. Lots of short passes underneath our zones. Sort of reminds of me of how we nickel and dimed USC in 2004.
We had a lot of poor tackling early in the game. Lots of wiffed hits and bad angles.
The atmosphere of today's game was average. The crowd was loud on critical 3rd downs and 4th downs but other than that, the stadium felt sort of flat. Having a packed stadium against a big time opponent, I was expecting much more. Maybe my expectations were too high. I was expecting the crowd to be just as energetic and loud ALL THE TIME, such as against Oregon last year. In my opinion, and from where I was seated, it seemed like we only reached 2006 Oregon levels when it was 3rd and 4th down. Against Oregon last year, I felt like the crowd managed to stay loud the entire time Oregon was on offense. I had never seen and/or heard a Cal crowd that loud and energetic before. I thought for sure that I'd see the same thing yesterday. I didn't, and thus I was rather disappointed. Please don't read this the wrong way. I know a lot of our hardcore readers were out there giving 110%. I'm not talking about you guys. I'm talking about all the other casual fans - such as these two little freshman in front of me (picture below). Apparently their poor little legs got tired. They also were too busy conversing with themselves to even watch half of the game or make any noise. Oh, they also left in the 3rd quarter too. LAME.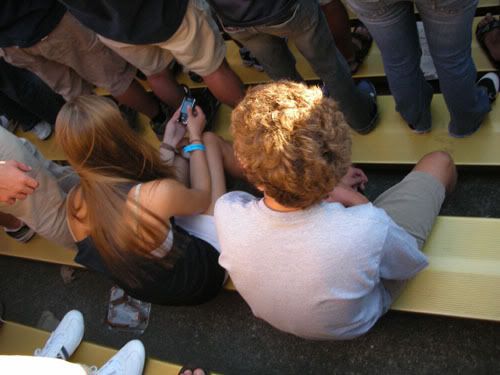 And excuse me while I go off on a tangent. Football is not a spectator sport. Real football fans don't go to games to sit there quietly and watch the game. Football is a participatory sport. Real football fans go to games knowing they are going to lose their voice from screaming and yelling. I hope your throat, like mine, is raw and sore from all the yelling you did during the game. In fact, that's the official rule. If your voice isn't hoarse or gone, then you didn't yell enough. Plain and simple. No excuses.
How bout Forsett? A nice 6 yard average and tons of Tennessee players with broken ankles. I was pleasantly surprised. Not that I don't think that Forsett is good, it's just well… I don't think I've seen him put on such a sick show before. He hit the holes hard and fast. He had great vision. He cut the ball back across the grain when he needed to. I think this might have been Forsett's game EVER.
Speaking of runningbacks, we didn't see much of James Montgomery. Has Jahvid Best already surpassed him on the depth chart? Either that or JT just wanted Best in there to add another dimension to our offense. This little story is definitely worth keeping on eye on in the future.
Hawk had a fantastic game. Good kickoff returns, great route running and hole-in-the-zone finding.
And Robert Jordan (or as some of our readers like to call him: RoJo), had a cool little touchdown dive.
And DeSean "THA1" Jackson was well… the one. He had that clutch catch on the east sideline despite getting hammered by the safety and the Sportscenter highlight punt return. Wow. So talented.
Did you notice that Hawk, RoJo, and THA1 all came out of the north tunnel together at the start of the game? I'm really glad those guys are good friends and getting along. There was definitely some friction for the first two years, but it seems like these guys have all gotten past that. I think that shows their maturity and team-first mentality.
Dude, how about Rulon Davis making that 4th and Goal stop?! Even if he didn't swat the ball out of the receiver's hands, he would have made the tackle anyways and saved the touchdown - proof being that Rulon tackled the receiver anyways! And Rulon took out the sideline ref too! Comedy!
I was really surprised to NOT see THA1 back returning kickoffs. But it was nice to see Jahvid "Little Bush" Best back returning kickoffs. He did well. Oh, except for Best's first play as a collegiate football player. He was nervous - if it wasn't evident from him splitting himself out wide right prior to lining up in the backfield. And I swear I saw his legs shaking too. It's all good though. I suppose I'd be a little nervous too being in front of 72,000 fans on national TV against an SEC powerhouse.
I really wish we had gotten that QB sneak touchdown with just over 2 minutes left in the 4th quarter. While beating Tennessee by 14 is pretty good, a 21 point win with a final score of 52 points would have been killer. Oh, and the fact that JT went for the touchdown with a two touchdown lead is worth talking about. Up by 14 at the time, a field goal would have given us a 17 point lead. That's a three possession game at minimum for Tennessee… with only 2 minutes left in the game. A field goal would have been the nail in the coffin. Yet, Tedford went for the touchdown. Either Tedford was breaking out of his conservative playcalling self and being more aggressive or he wanted to break 50 points and really make even MORE of a statement. I think it's both, but mainly the second reason.
And while I'm glad that God is doing the playcalling again, did it seem like he really didn't want to throw downfield in the 3rd quarter? It seemed like God went into hardcore "ball control"/conservative mode for the 3rd quarter. And then in the 4th quarter, when most teams with a lead will get conservative and run, we aired it out down the field.
I was really surprised that for the most part, Tennessee went 1 on 1 with Desean Jackson. I thought that for sure they were going to tag a safety on him all the time.
Oh, and correct me if I'm wrong, but I don't think Longshore got sacked at all! Yay for awesome pass protection!
Oh, and how 'bout Gregory putting Follett wide on WRs, then blitzing him? Pretty nifty. Gregory said that he'd be putting Follett all over the field and Follett was sure all over the field this game. Also, Gregory did a great job of disguising his defense. Our defense would show one formation, then would often shift after Tennessee had made their play changes. I have to give props to Gregory. He had a great gameplan. I know Ainge had a good completion percentage and Tennessee did score 31 points, but Gregory's conservative, drop-back-into-zones, and keep-everything-in-front-of-us defensive strategy worked well. It forced Tennessee to take what we gave them (the short, underneath passes), and to sustain long drives.
Normally I would break down the game and provide some analysis but my stupid Tivo had some technical difficulties. So until I can download the torrent of the game I will not be able to break down our offense. Maybe in a week or two I'll have the analysis ready.
Go Bears!