#7 - Oregon State
Like Pullman, Corvallis, Oregon, the home of Oregon State University, is a college town without a whole heck of a lot else going on. Yes, you can visit Portland on this road trip, but given that Corvallis is an hour and a half south of Oregon's biggest city, it's certainly not convenient. However, even if Corvallis were no more interesting that Pullman (and it is, somewhat) and even if Portland were no more interesting than Spokane (and it is), Corvallis would still have the advantages of being both closer and more accessible.
You've got two travel options to get to Corvallis. For the road-weary, it's a short flight from Oakland to Portland, followed by a short flight to Corvallis. This option does give you the excuse to check out Portland, a very nice city I unfortunately haven't spent much time exploring.
However, for those who want a 'true' road trip, the drive north from the Bay Area is about 9 hours, most of that spent on Interstate 5. It's not a particularly interesting drive, although I think it's prettier than the drive south to LA, and it gives you 9 hours in the car to rock out to your radio (or recordings of "Big 'C'"!) and get hyped for football. Two things stand out about this drive: first, this sign, probably the most stolen road sign in California: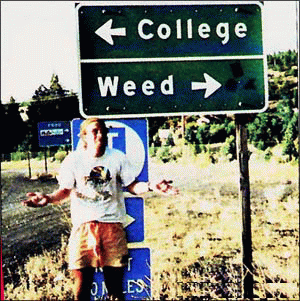 I know, I know, it's a tough decision.
Second, off exit 86 in Azalea, Oregon, you'll find the Heaven On Earth Restaurant. Tasty food, gigantic cinnamon buns, and a healthy dose of Christian charity make this place definitely worth a stop. Warning: if you're one of those godless commies who's offended by scripture quotations being mingled among your menu options, steer clear. You don't have to love Jesus to eat here, but I wouldn't advertise otherwise.
Once in Corvallis, well, there's not a whole lot to do besides football. It's a very nice place to live, and if you're into hiking and biking, it can be a great place to visit, but if you're looking for action, well, maybe you want to hit up a town with a population greater than 50,000. To give you a better idea of what Corvallis is like, here's a sampling of the awards and recognition it has garnered:
"Safest Pac-10 Campus"
"One of the 13 best towns to be a vegetarian"
"One of the 10 best cities in which to live"
"9th most bicycle-friendly town in the nation"
"Tree City USA Award"
"Green Power Community" (Only 3rd town in nation to be so recognized)

Corvallis : A very pleasant place to live.
Reser Stadium, home of the Oregon State Beavers, is the smallest in the Pac-10, although it is currently undergoing an expansion. Perhaps it will be nicer after the remodel, but on my visit to Corvallis, it ranked as merely another in a long line of 'nothing special' college football stadiums.

Every day is Halloween on the Oregon State campus. [Photo by Curtis Reed Photography.]
Reasons to visit Oregon State:
- An enjoyable weekend of football.
- You've got family in Oregon.
- The Oregon schools are the right distance away to make a good road trip.
- Like Wazzu, this game may be missed by television programmers.
- No sales tax!
- Beaver jokes just never get old.
- Your SF Giants apparel will fit right in.
Reasons to stay home and hope the game's on TV:
- Not much going on in Corvallis besides football.
- You don't have any friends who can stand to be in a car with you for 9 straight hours.
- Interstate 5 sounds to you like a terrible way to spend a weekend.
- You should be heading south as the weather gets colder, not north.
- If it's raining (and in Oregon, it just might!), they don't allow umbrellas in the stadium. Standing in the rain for 3 1/2 hours can be a pretty depressing way to spend a weekend.
Overall, I'd have to put Corvallis on my 'you should see it once' list. It can be a fun road trip, and I certainly enjoyed my visit (even if it was marred by the Giants blowing game 6 of the World Series), but, like Pullman, I don't have a compelling reason to go back every other year. Don't worry, this is the last Pac-10 school I'm going to say that about.